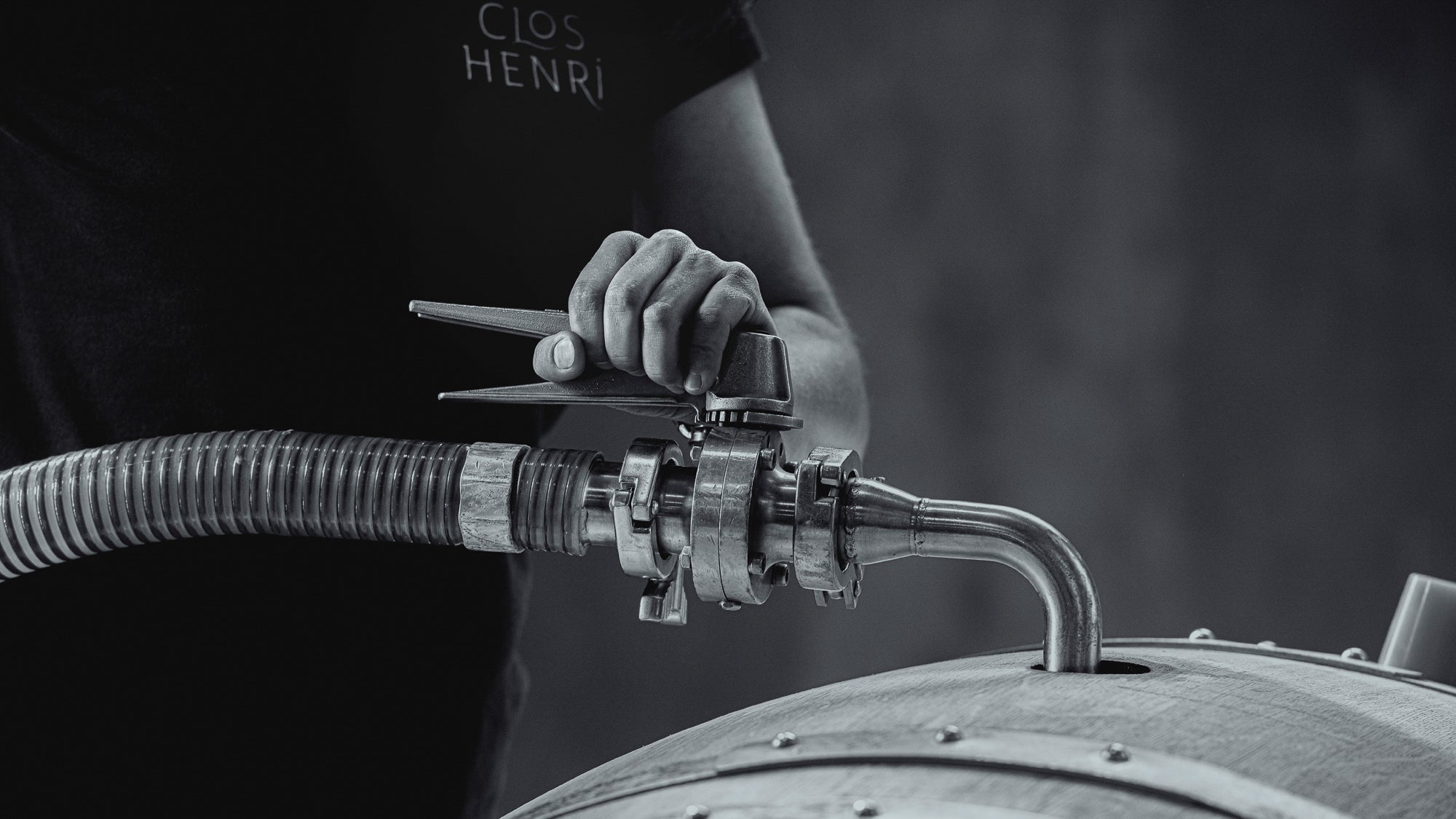 As pioneers of Single Vineyard winemaking in Sancerre, it was only natural for us to continue this tradition in Marlborough.
Allowing the vines to speak to their terroir is of utmost importance to our family and the winemaking team at Clos Henri. For this reason, our winemaking techniques celebrate simplicity, low intervention and very few additives. Our efforts in this mean that we do not rely on filtering and fining processes; which supports our aim to produce wines with distinctive individual character that tell the story of our vineyard and estate.
All of our wines are made using organic and biodynamic practices and are vegan and vegetarian friendly.
Harvesting
As our vines steadily approach ripeness during March and April, they accumulate colour, sugars and flavour. This is when our role transitions from grape growers to winemakers, keeping careful watch on the vines and eagerly waiting for them to be harvest-ready.
We are looking for balance and flavour in the fruit, with grapes from each parcel and terroir sampled daily to ensure they are harvested at optimum maturity.
Sauvignon Blanc is harvested by machine in the early hours of the morning to retain freshness and purity of the parcel. Pinot Noir is hand-harvested later in the day by dedicated hand-harvesting teams who carefully select bunches, sorting them as they work.
An important aspect of being a 'Clos' is that everything is in one place. We are lucky to have our winery on site at the estate, minimising the time that it takes for our grapes to get from vineyard to winery. This ensures that freshness and flavour is retained, and saves the grapes from being macerated for an extended period. By doing this, we are able to retain the quality of the vintage. We also avoid extracting unnecessary phenolics.
We ferment all of our parcels individually by clone, rootstock and soil selection in tank, barrels or large format wooden cuves.
PINOT NOIR
Harvesting our Pinot Noir by hand allows us to retain a portion of the intake as whole bunches. Up to 20% of each tank is fermented in whole-bunch form, depending on the vintage. This allows us to extract tannins from the rachii and also contributes to the overall complexity of the Pinot Noir. With controlled maceration, little to no plunging and use of indigenous yeasts for fermentation, our Pinot Noirs express elegance with soft, integrated tannins and interesting complexity.
SAUVIGNON BLANC
Once harvested, our Sauvignon Blanc goes directly to the press. Here, we utilise a 'press cut', whereby the free run juice is separated from the hard pressings. These are then fermented separately and blended back together at a later stage, enabling us to obtain greater balance and texture. Incorporating the use of ageing 'sur lie' (lees) over winter, partial barrel fermentation and tank stirring also work to enhance the texture of our Sauvignon Blanc.
Filtration and Fining
To preserve the natural expression of our wines, do not 'fine' them. This means that we do not use additives such as isinglass or milk; which allows us to comfortably say our wines are vegan & vegetarian friendly. We also use a low sulphur regime in our winemaking techniques. On average, our wines have 50% less sulphur than most conventional wines in Marlborough. Through years of experience, we have found that minimal additions of sulphur is essential to avoiding the ever-present risk of wine oxidation or spoilage, which destroys the character given to the wine from individual vineyards. We add a small amount of sulphur dioxide, SO2, when the grapes are crushed, after malolactic fermentation, and very small amounts at rackings, being careful to maintain the minimum effective level for each wine.